About
STEVE SALO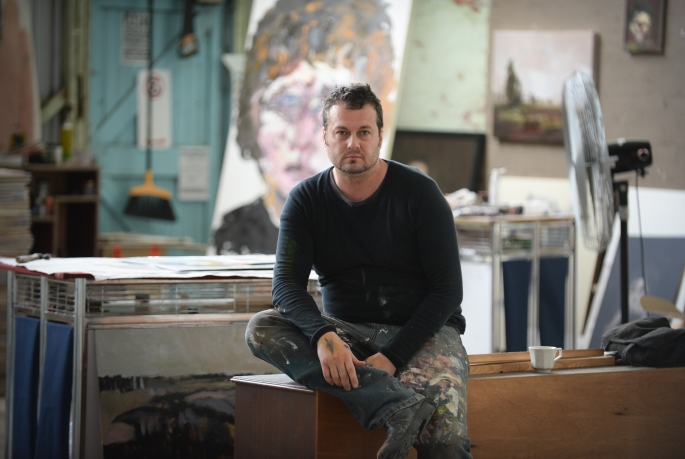 Photo courtesy of
Reg Ryan
, Geelong Coast magazine
Bio
Steve Salo is an Australian contemporary artist, best known for his emotive portraiture and landscape paintings.
Steve showed a natural talent for painting at a young age, getting his first oil paints at the age of eight. Of Ukrainian descent, he received early encouragement from his craftsman grandfather ('dido') who lived next door in Herne Hill, Geelong. His dido taught him many things, including the importance of doing your craft with love and full effort and attention. Hours upon hours in the workshop observing the patience and passion that went into his woodwork and bootmaking left an indelible mark. Respect your tools, look after them, create an environment that inspires your best work.
As a young boy at Ukrainian church, Steve was transfixed by the latest additions to the large icon paintings on the walls and ceiling that were painted by the priest over many years. Helping out on one occasion, he still remembers "the feeling of being an apprentice of a great painter, up in the choir loft that was his studio, amongst jars and jars of paint". He experienced how painting could evoke feeling — and as child in and out of hospital with severe asthma Steve was also finding solace and self-expression through his drawings. His first studio was at age 16, the family's outdoor bungalow amid the orchard. These early influences have carried through to the evocative paintings Steve creates today. Studying books about the master painters and experimenting in many mediums and across various subject matter, he is largely self-taught.
In his 20's and into his 30's, art didn't seem to fit with the world around him and Steve painted sporadically. Working in graphic design, picture framing and a host of other jobs, he felt a deepening frustration. A fire in his Torquay studio in early 2013 brought Steve's art to a cross-road. Losing most of his art history and materials, he realised painting was what he wanted and needed to be doing. He committed to boundless experimentation and to no longer hoarding what he created. Painting full-time, his solo exhibition Portraits of Artists was held at Metropolis Gallery in 2014. Since then, he's created more shows: Passerby, The Back to Back Theatre Portraits, Expressions of Landscape and Halcyon Days.
Steve's profile as a contemporary artist continues to grow, with his paintings being shortlisted in prestigious prizes across Australia and awarded a prize in Florence, Italy. His works are in private collections in Australia, New Zealand, Singapore, China, Hong Kong, USA, Canada and the UK. In 2017 he undertook artist residencies in coastal Portsea, Victoria and in the Hämeenkyrö lake region in Finland. Paintings from Steve's Finland residency are currently being shown at the Embassy of Finland, Canberra as part of the event program for Suomi Finland 100 centenary of independence. Works inspired by his residency at Police Point on the Mornington Peninsula will be exhibited in 2018. He's also working his largest-ever painting, a 2m x 3m landscape for a private commission.
After a long road, Steve is now on his way to living his dream; Making a life and a living from his painting.
"Through the visual voice of painting, I communicate emotion. We are complex of mind and spirit, my intent as a contemporary portrait artist is to explore the human psyche through painting these complexities. I am interested in portraying this aspect rather than focussing on the surface level alone. My landscape paintings also go beyond the visual perception, I am more concerned with portraying the feelings evoked by being in a place."
— Steve Salo
GALLERIES
Metropolis Gallery Geelong Australia — Director Robert Avitabile
Hawthorn Studio & Gallery Melbourne Australia — Director Angela Foote

Updated November 2017