Steve Salo, 19 October 2017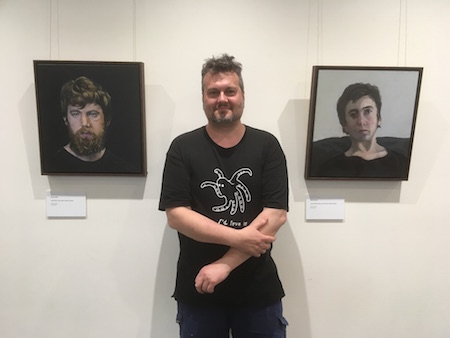 The Back to Back Theatre Portraits are being exhibited in the Curved Wall Gallery at the Frankston Arts Centre, Melbourne, from 19 October to 9 December 2017. I'm so grateful to curator Milla Dakovic for her interest and thrilled that many theatre and arts lovers will get to see these works.
In 2016 I collaborated with Back to Back Theatre, creating portraits of the ensemble actors and the artistic director. Back to Back Theatre is a leading voice in contemporary world theatre. Based in my hometown of Geelong, Australia, the company makes work locally and tours extensively to major festivals and cultural institutions across the globe. Read more.
The Curved Wall Gallery is at Frankston Arts Centre, 27-37 Davey St, Frankston, Melbourne Australia.
Steve Salo at the FAC with his paintings of actors Scott and Sarah