Steve Salo, 25 April 2016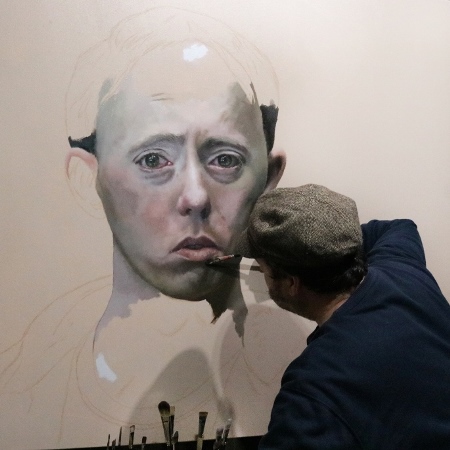 For one night only, on Friday 6 May 2016 for Geelong After Dark, Metropolis Gallery will preview The Back to Back Theatre Portraits.
I've now completed portraits of the six ensemble actors and will be working on the painting of artistic director Bruce Gladwin on the night. View these paintings, along with my sketchbooks and photos from the sittings. I'll be at Metropolis, 64 Ryrie Street, from 5 – 8 pm.
Two-minutes walk from Metropolis and always a highlight of the annual Geelong After Dark, Back to Back Theatre will be open from 6 – 10 pm. Having created 28 DEMOCRATIC SET films with communities all over the globe, join Back to Back Theatre in the creation of THE DEMOCRATIC SET Geelong.
Painting of Simon Laherty, in progress